VRWC Results - Summer Season 2018/2019

---
The Summer Season occurs between October and March and coincides with the long hot Australian summer. The emphasis in on track walking and most races are over the shorter track distances. There is also a strong walking presence in the 'Interclub' Track Competition with all Athletics Teams fielding walkers in their regular competitions.
For this reason, VRWC only holds a small number of events during this period.

VMA 5000m Championships , Dolomore Reserve, Mentone, Sunday 17 February

Conditions were perfect early on Sunday morning for the annual Victorian Masters 5000m walk championships at the Mentone Athletics Track, but the sun came out mid morning and the temperature did then rise. Of our 40 walkers in attendance, 35 competed in the VMA Championships, a very pleasing outcome.

The masters women had the best of the conditions, with their 8:30AM start time. W35 Oakleigh walker

Kym Osmand

was one of the standouts with her winning time of 26:51. Kym has walked in AV Shield for a number of years but has really brought her times down in the last 12 months. W65

Alison Thompson

also stood out, winning her division with an impressive 29:39. It was also great to see three W75 walkers finishing the event in fine style.



Masters Women 5000m Track Walk


W35 1 Osmand, Kym 26:51 PB 0:57
W40 1 Geisler, Sandra 27:50
2 McLennan, Laura 33:20 Inaugural
3 Grace, Marnie 34:51
W45 1 Irshad, Kylie 29:58
W55 1 Elms, Donna-Marie 32:30
2 Rosenbrock, Carolyn 32:39
3 Howorth, Sandra 39:38
DQ Castel, Helen DQ First time walker
W60 1 O'Neill, Karyn 34:50
2 D'Monte, Arlene 39:50 Inaugural
W65 1 Thompson, Alison 29:39
2 Carr, Heather 31:20
W70 1 McPherson, Glennis 36:53
W75 1 Steed, Gwen 35:54
2 Machin, Sylvia 38:26
3 Hugo, Beverley 44:04

The Masters Men started at 9:15AM, with M40

Pramesh Prasad

(25:05) and M55

Kevin Cassidy

(26:20) leading the way. Special mentions to

Albin Hess

(30:04) and

Julian Boland

(32:17) on PBs.



Masters Men 5000m Track Walk


M40 1 Prasad, Pramesh 25:05
2 Van Dongen, Rupert 35:14
M45 1 Smyth, David 28:41
M55 1 Cassidy, Kevin 26:20
2 Evans, Simon 29:38
3 Hess, Albin 30:04 PB 0:47
4 Boland, Julian 32:17 PB 1:48
5 Moritz, Paul 34:18
M60 DNF Donahoo, Mark DNF
DQ Worsnop, Christopher DQ
M65 1 Prowse, Frank 33:47
2 Riddoch, Clyde 34:32
M70 1 Jamieson, Andrew 29:59
2 Middleton, Des 35:04
DNF Dickenson, Russ DNF
M75 1 Bennett, Ralph 31:35
M80 1 Ilgoutz, Gunther 36:31
M85 DQ Silcock-Delaney, Colin DQ

The meet also included VRWC non-championship walks, with a small number of competitors in attendance. Special mentions to 12 year old

Joel Imbriano

for his 3000m walk PB of 16:06 and to 7 year olds

Ela Uzun

and

Havana Ali

who had their first ever track walk, finishing with 9:18 and 9:53 respectively. Both girls broke our VRWC U19 1500m Track Walk club record. Good work girls!



VRWC 5000m Walk


1. Reid, Ross M 31:45



VRWC 3000m Walk


1. Imbriano, Joel M 16:06 PB 0:02
2. Doran, Anthony M 21:05



VRWC 1500m Walk


1. Uzun, Ela F 09:18 VRWC U9 Club Record
2. Ali, Havana F 09:53

Thanks as always to our judges, officials and helpers. Apologies to anyone I have missed.



Officials:

Tim Erickson, Mark Donahoo, Terry Swan


Lapscorers:

Bill Carr, Colin Thompson, Barrie Wicks, Mark Donahoo, Tony Doran

Judges:
Gordon Loughnan (chief), David Cash, Terry O'Neill, Shane Dickson

That completes the VRWC summer season. We will return in late April for the start of our winter roadwalking season.
AV Teams 5000m Championships , Dolomore Reserve, Mentone, Wednesday 13 February

Conditions were perfect on Wednesday evening for the annual Athletics Victoria 5000m Team Walk Championships at the Mentone Athletics Track, and we were pleased with the turnout of 32 walkers.

The AV teams championships saw strong wins to both the Knox Athletics men's and women's teams, with

Charlotte Hay, Kathleen O'Mahony, Emily Smith, Corey Dickson, Mark Blackwood, Luke Epps

and

Angus Hay

all walking well, most recording PBs. Sandringham and Glenhuntly clubs filled the minor medals in the women's teams race while the Victorian Masters took silver in the men's teams race.



5000m Walk Women


1. Hay, Charlotte KNA 25:27 1 PB 0:23
2. Osmand, Kym VMA 28:13
3. O'Mahony, Kathleen KNA 28:43 2
4. Carr, Heather GHY 30:53 3
5. Smith, Emily KNA 31:02 4 PB 1:28
6. Holohan, Bernadette SAN 33:04 5 PB
7. Dingli, Alannah SAN 33:16 6 PB 1:49
8. Dingli, Isabella SAN 33:31 7 PB 0:55
9. Steed, Gwen GHY 37:45 8
10. Howorth, Sandra GHY 40:11 9



Teams Championships


1. KNA 1,2,4 7
2. SAN 5,6,7 17
3. GHY 3,8,9 20



5000m Walk Men


1. Dickson, Corey KNA 22:12 1 PB 0:01
2. Thompson, Will CCA 23:39
3. Blackwood, Mark KNA 23:58 2
4. Prasad, Pramesh VMA 27:25 3
5. Epps, Luke KNA 28:08 4 PB 0:44
6. Hay, Angus KNA 29:04 5 PB 1:21
7. Hess, Albin VMA 30:51 6 PB 1:10
8. Murfett, Grant VMA 31:54 Inaugural
9. Boland, Julian MEN 35:23
10. Barrow, Geoff MEN 35:24
11. Dickenson, Russell VMA 35:46
Wakim, Marcus COL DNS
Van Dongen, Rupert MEN DNS



Team Championships


1. KNA 1,2,4 7
2. VMA 3,5,6 14

We also had a number of walkers who participated in the non-championship 1500m and 5000m walks.



VRWC 5000m Non-Championship Walk


1. Cassidy, Kevin VRWC 26:03
2. Irshad, Kylie VRWC 29:56



VRWC 1500m Non-Championship Walk

1. Smyth, David VRWC 07:32

2. Imbriano, Joel VRWC 07:33
3. Thompson, Eliza VRWC 08:45
4. Grace, Marnie VRWC 09:28
5. Smith, Aiden VRWC 09:47
6. Warrillow, Huw INV 10:14
7. Thompson, Merilyn VRWC 10:24
8. D'Monte, Arlene INV 11:47
9. Mews, Pam VRWC 17:05

Our walkers gathered together after the meet to give a show of support for the 50km walk, under threat from forces within the IAAF. Thanks everyone!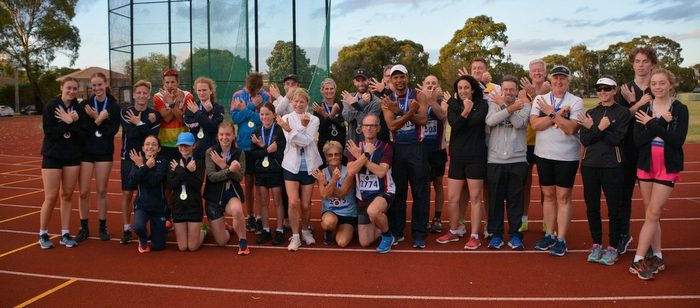 Thanks as always to our officials, helpers and judges. Apologies if I have missed anyone



Officials

: Stuart Cooper, Terry Swan, Tim Erickson, Mark O'Mahony, Bill Carr, Margaret Hay, Donna Dickson


Judges:

Peter Vysma (Chief), Michael Bodey, David Cash, Gordon Loughnan, Shane Dickson, Brenda Felton

We return to the Mentone Athletics Track on Sunday morning for the annual Victorian Masters 5000m Walk Championships.
VRWC ROADWALKS, MIDDLE PARK, SUNDAY 20 JANUARY 2019

Our latest VRWC road races at Middle Park on Sunday morning saw 35 walkers testing themselves out over varying distances on a warm and sunny Melbourne summer day. Most had walked in AV Shield the day before but were ready to go again. 2016 Olympian

Rhydian Cowley

was the standout with, what was for him, was an easy Sunday morning 20km training session of 1:36:39.

Mark Blackwood

also walked well for his 20km time of 1:43:51. And then everyone hung around to see

Kyle Bird

(1:50:53) and

Cassandra Knight

(2:18:17) each finish their first 20km. Great work by the two young walkers.

It was also great to see new walker

Marnie Grace

walk her first ever 5km (34:15) and 12 year old

Aiden Smith

(22:14) walk his first ever 3km. Finally, special mentions to

Joel Imbriano

(equal PB of 16:18 for 3km) and

Havana Ali

(PB of 14:35 for 2km).



VRWC 20km Roadwalk


1. Cowley, Rhydian M 48:29 1:36:39
2. Blackwood, Mark M 52:02 1:43:51
3. Bird, Kyle M 53:19 1:50:53 First one
4. Feiner, Tracy F 1:00:50 2:05:59
5. Feain, Madeleine F 1:04:25 2:13:07
6. Knight, Cassandra F 1:06:13 2:18:17 First one



VRWC 15km Roadwalk


1. Prasad, Pramesh M 52:13 1:20:45
2. Rosenbrock, Carolyn F 1:10:37 1:48:02



VRWC 10km Roadwalk


1. Hay, Charlotte F 59:20
2. Geisler, Sandra F 59:52
3. Irshad, Kylie F 1:07:28
4. Donahoo, Mark M 1:08:29
5. Carr, Heather F 1:09:46
6. O'Neill, Karyn F 1:14:19
7. Elms, Donna-Marie F 1:16:17



VRWC 5km Walk


1. Cassidy, Kevin M 26:55
2. Beveridge, Heath M 28:00
3. Smyth, David M 29:08
4. Hay, Angus M 32:24
5. Bennett, Ralph M 32:36
6. Smith, Emily F 33:05
7. Grace, Marnie F 34:15 First one
8. Steed, Gwen F 36:33
9. Barrow, Geoff M 36:49
10. Doran, Anthony M 37:14



VRWC 3km Walk


1. Imbriano, Joel M 16:18 Eq. PB
2. Blackwood, Hamish M 19:09
3. Smith, Aiden M 22:14 First one



VRWC 2km Walk


1. Uzun, Ela F 13:47
2. McPherson, Glennis F 14:03
3. Ali, Havana F 14:35 PB 0:56
4. Beaumont, Margaret F 18:25
5. Beaumont, Ian M 18:27



VRWC 1km Walk


1. Paulke, Addison F 06:44
2. Mews, Pam F 12:39

Thanks as always to our many officials, judges and helpers. Apologies if I have missed anyone.



Officials:

Mark Donahoo, Ralph Bennett, Tim Erickson, Bill Carr


Judges:

Peter Vysma, Gordon Loughnan, Terry O'Neill, Stuart Cooper, David Cash, Brenda Felton


Canteen:

Donna-Marie Elms


Photos:

Terry Swan
VRWC SUMMER CHAMPIONSHIPS, MIDDLE PARK, SUNDAY 18 NOVEMBER 2018

Our VRWC Summer Season roadwalking championships were held at Middle Park last Sunday, with 26 competitors competing in a typically warm and sunny Melbourne morning. We welcomed

Kim Mottrom

from South Australia and

Erika Woodward

from Queensland and both walked well. Kim fought out the Gus Theobold Trophy with

Rhydian Cowley

, going down 1:35:19 to 1:35:00, while Erika won the Heather Carr Trophy over 10km. No PBs for the day, perhaps a reflection of the warmer weather, mixed with the fact that nearly all the competitors had walked the day before in Athletics Victoria Shield competition. Well done to those who medalled in our club championships.



VRWC 20km Championship Men - Gus Theobold Trophy


1. Rhydian Cowley M 47:52 1:35:00
2. Kim Mottrom M 47:29 1:35:19
3. Pramesh Prasad M 51:57 1:51:29
Adam Garganis M 52:49 DNF





VRWC Open 20km


1. Michelle Thompson F 1:03:50 2:10:11
2. Madeleine Feain F 1:04:16 2:10:22



VRWC 10km Championship Masters Women - Heather Carr Trophy


1. Erika Woodward F 1:02:58
2. Donna-Marie Elms F 1:08:24
3. Karyn O'Neill F 1:09:47



VRWC Open 10km


1. Corey Dickson M 50:38
2. Philippa Huse F 52:22
3. Jemma Peart F 57:05
4. Charlotte Hay F 59:35
5. David Smyth M 1:01:48
6. Claire Samanna F 1:03:06
7. Terry O'Neill M 1:06:46
Mark Donahoo M DNF



VRWC 5km Championship U20


1. Alanna Peart F 24:40

1. Heath Beveridge M 27:44



VRWC Open 5km


1. Simon Evans M 28:59
2. Ralph Bennett M 31:55
3. Russ Dickenson M 37:07



VRWC 3km Championship U15


1. Emily Smith F 18:22

1. Marcus Wakim M 17:40



VRWC Open 3km


1. Pam Mews F 33:22



VRWC 1.5km Championship U9


1. Ela Uzun F 10:08
2. Havana Ali F 10:45

Thanks as always to our judges, officials and helpers. Apologies if I have missed anyone.



Officials

: Ralph Bennett, Mark Donahoo, Tim Erickson, Bill Carr, Heather Carr, Adam Garganis, Kevin Cassidy


Setup

: Stuart Cooper, Shane Dickson, Donna Dickson, Tim Erickson, Peter Vysma, Wayne Peart


Judges

: Peter Vysma (chief), Gordon Loughnan, Stuart Cooper, Terry O'Neill, Shane Dickson


Canteen

: Wendy Cooper, Donna-Marie Elms


Photos

: Donna Dickson
Lapsplits: http://vrwc.org.au/wp1/race-splits-laps/

VRWC ROAD RACES, MIDDLE PARK, SUNDAY 28 OCTOBER 2018

Many of the Victorian walkers who were in action in the Athletics Victoria Shield competition on Saturday afternoon were back in action at Middle Park on Sunday morning for the next round of the VRWC Summer Season. Conditions were good, with sunny weather and temperatures in low twenties. 22 walkers in total participated. Unfortunately, I could not be there as I was away in the country so thanks to club president Stuart Cooper for collating and forwarding the results to me.

Best effort by

Corey Dickson

(5km 24:09), and well done to

Madeleine Feain

and

Havana Ali

on their PBs. It was also good to see

Philippa Huse

chipping away at her 10km times (51:58) as she regains fitness as her study year comes to an end. Finally, we also welcomed Tasmanian walker

David Moore

who did the 5km walk.



20km Walk


1. Madeleine Feain Open 2:15:11.0 PB 0:17

1. Rhydian Cowley Open 1:38:15.8
2. Quentin Rew Open 1:38:16.0
3. Kyle Swan Open 1:39:33.8
4. Pramesh Prasad 40-59 1:46:58.8



10km Walk


1. Philippa Huse Open 51:58.3
2. Kylie Irshad 40-59 1:04:31.4
3. Donna-Marie Elms 40-59 1:09:13.3
4. Karyn O'Neill 60+ 1:10:35.9



5km Walk


1. Corey Dickson Open 24:09.7
2. Heath Beveridge Open 26:43.8
3. Ralph Bennett 60+ 31:35.1
4. David Moore (TRWC) 60+ 39:35.4



3km Walk


1. Sandra Howorth 40-59 22:34.9
2. Pam Mews 60+ 34:03.2

1. Kevin Cassidy 40-59 16:06.7
2. Marcus Wakim U14 17:11.2
3. Simon Evans 40-59 17:31.1
4. Anthony Doran 60+ 21:56.7



2km Walk


1. Ela Uzun U10 13:37.6
2. Havana Ali U10 15:30.2 PB 0:15

1. Aiden Smith U12 14:46.8

Thanks as always to our judges, officials and helpers. Apologies if I have missed anyone.



Officials

: Ralph Bennett, Terry Swan, Bill Carr, Heather Carr


Judges

: Stuart Cooper, Shane Dickson, Gordon Loughnan, Terry O'Neill, Russ Dickenson


Canteen

: Donna-Marie Elms


Photos

: Terry Swan (see http://www.vrwc.org.au/piwigo/index.php?/category/520)


Lapsplits

: (http://vrwc.org.au/wp1/race-splits-laps/)
VRWC TRACK RACES, MENTONE, WEDNESDAY 17 OCTOBER 2018

We had a good turnout of 24 walkers on Wednesday evening for our first VRWC 2018/2019 Summer Season meet at the Dolamore Athletics Track in Mentone. Conditions were just about perfect – cool, overcast and a slight breeze.

Quentin Rew

led the way in our 10,000m walk, winning with a swift 44:49, not a bad effort considering he had walked the Melbourne Marathon 3 days previously.

Albin Hess

(1:12:22) and

Karyn O'Neill

(20:16) had also completed the walk in the full Melbourne Marathon so they did well to back up so quickly for further punishment!

Megan Szirom

(24:56) and

Kyle Bird

(14:32) were easy winners in the 5000m/3000m walks. It was good to welcome

Kevin Cassidy

back after a long health related outage – Kevin walked a good 16:30 for the 3000m. The 1500m saw a number of our youngsters in action, ably led by

Emily Smith

who zoomed around in 8:22. We also welcomed first time

Marnie Grace

who recorded 10:39. Welcome Marnie!

And well done to 8 year old

Addison Paulke

who set a new VRWC U9 1500m track walk (girls) club record with her time of 10:30.



10,000m Walk


1. Quentin Rew M 44:49
2. Pramesh Prasad M 50:04
3. Albin Hess M 1:12:22



5000m Walk


1. Megan Szirom F 24:56
2. Ralph Bennett M 30:30
3. Kylie Irshad F 31:27



3000m Walk


1. Kyle Bird M 14:32
2. Kevin Cassidy M 16:30
3. David Smyth M 16:54
4. Simon Evans M 17:04
5. Cassie Knight F 17:22
6. Julian Boland M 18:49
7. Rupert Van Dongen M 18:58
8. Alannah Dingli F 19:35
9. Isabella Dingli F 19:37 PB 0:03
10. Karyn O'Neill F 20:16
11. Sandra Howorth F 23:20
Gwen Steed F DNF



1500m Walk


1. Emily Smith F 08:22 PB
2. Alannah Upson F 08:53 PB 0:01
3. Addison Paulke F 10:30
4. Aiden Smith M 10:36
5. Marnie Grace F 10:39 First walk with us
6. Pam Mews F 19:16

Thanks as always to our officials and judges. Apologies for anyone I have missed.



Officials

: Tim Erickson, Heather Carr, Bill Carr, Terry O'Neill


Judges

: Shane Dickson (Chief), Stuart Cooper, Brenda Felton, Dave Cash, Michael Bodey


Photos

: Terry Swan (see http://www.vrwc.org.au/piwigo/index.php?/category/519)