Over the years, I have seen a number of cartoons that have featured racewalking in one way or another. In 2008, I published a number of them in our Heel & Toe magazine over a series of weeks. They are captured here for posterity. I am always keen to add to the list so feel free to send me further ones that you may find.
I start off with my all time favourite, created by Melbourne cartoonist Michael Leunig and published in the Melbourne Age newspaper in the early 1990s.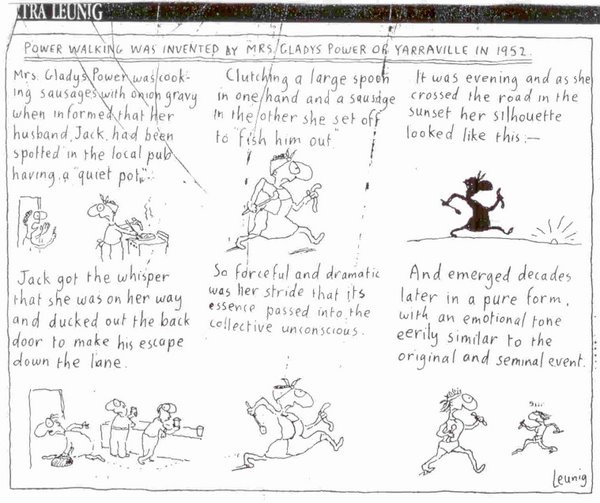 Thanks to Rob Elliot of Guerney who provided the following cartoon. Guernsey, one of England's channel islands, has had an annual Church to Church walk (just under 20 miles) for many years and this walk is the subject of this particular cartoon. Rob commented



Attached cartoon whose character had us laughing as youngsters (and older). The cartoonist who created the character also used to do us one offs occasionally before the Church walk, but not using "Stone de Croze". The attached one was just one I had in the computer. Joke might be lost on you as an Australian but any Guernseyman would see the funny side, knowing the Stone de Croze character! His name comes from "Stone the Crows" which is a Guernsey phrase.



And here is a bit more info about the cartoon character himself – Stone De Croze.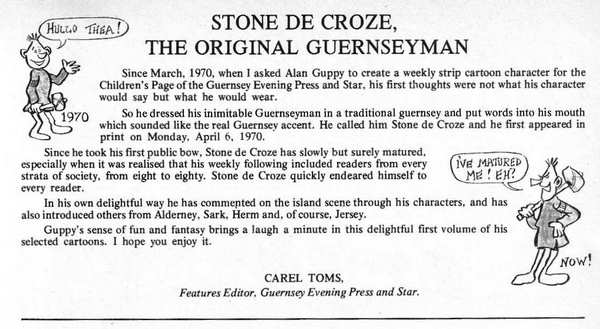 Thanks to Ray Smith for these two cartoons from one of his old scrap books. The Bluey and Curley strip is from the leadup period to the 1956 Olympic games in Melbourne and features two uniquely Australian cartoon characters of the era – Bluey and Curley. I remember them well. The creation of Alex Gurney at the start of the Second World War, the comic strip featured in the Herald and Weekly Times. Gurney produced the strip until his death in 1955 and it was then continued for some years by other writers. Have a look at http://www.gurneyart.com.au/alex-gurney/ for a great website about Gurney who was also a well known artist.

And here is another Blue and Curley cartoon also devoted to racewalking.

This cartoon is amongst my favourites, titled 'SPEED WALK 94' and from the 'Monty' comic strip by Jim Meddick, published by Newspaper Enterprise Association, Inc

The following sketch, from the Sydney Morning Herald of Monday 16 August 1939, has quite an interesting story behind it. The 1940 Olympics had been awarded to Tokyo but, when Japan and China went to war in 1938, the city withdrew as host. Then began an incredible period in which the IOC became the ostrich of the sports world and refused to believe what it was seeing. Feeling it should stay out of world politics, it moved the Games to Helsinki, Finland. Even when the Russians invaded Finland, the IOC still continued with their planning. It was not until the Finnish Olympic Committee formally withdrew as host in April 1940 that the IOC finally shelved plans for any Games that year. In the midst of this shuffling, the IOC awarded the 1944 Games to London. With World War Two still raging, these Games were also eventually called off.

It was during this period of uncertainty that Australian walkers challenged for selection in the 1940 Olympic walks - a 10,000m track walk and a 50 km roadwalk. Victoria and NSW were the two walking powerhouses of the period and they were expected to fight out the official Australian Olympic 10,000m trial, to be held on August 15th 1939 in Sydney. The Victorians were led by George Knott and Alan Reid. They had fought out the various Victorian titles for the past couple of years with Knott faster over the shorter distances and Reid stronger over the longer distances. The final Victorian championship before the trial was the Victorian 5 Mile walk championship at the Royal Melbourne Showground track. There Knott and Reid walked side by side throughout the event with the win going to Knott whose time of 37:15.0 saw him 0.4 secs ahead of Reid. Victorian hopes were high for their two star walkers. The main NSW hope was Athol Stubbs, holder of the world 1 mile walk record (6:18.2), and the holder of all NSW State titles from 1 Mile to 10 Miles.

The 1939 Olympic trial was held in conjunction with the Glover Shield, a regularly scheduled interstate walking match. On this occasion, it was changed from 7 Miles to 10,000m and was contested on the Petersham Oval in Sydney on Sunday 15 August 1939. And what a race it was with Stubbs and Knott both breaking the Australian 10,000m record. The newspapers of the time recorded the race as follows:



Stubbs moved off in front of the Victorians Knott and Reid, followed by Stephenson and Gosling. At the end of the first mile, Stubbs' time was 7 minutes and he had already overlapped some of the other competitors. By 3 miles, covered in 21m 45s, he had increased the margin to over a minute, with Knott and Reid together at 22m 54s. Knott then moved away from Reid and by the 4 mile mark, had reduced the lead to 35 secs with Reid 11 secs further back. Knott was closing the gap between Stubbs and, at 5 miles, had reduced the margin to 12 secs. Stubbs' time was 37m 6s. Reid in third place was 38 secs behind Knott. To 6 miles, Stubbs led in 44m 34s and Knott was then 3 secs behind and 1m 10s in advance of Reid. Stubbs finished 5 secs ahead of Knott and Reid was 26 secs behind in third place. Stubbs' final time of 46m 1s broke George Parker's Australian record of 46m 32s. Knott also broke the record.


Both Stubbs and Knott would presumably have been selected in the Australian Olympic team if the 1940 Olympics had gone ahead.

George Knott had age on his side and was able to make the Australian team for the 1948 Olympics, contesting the 10,000m walk in London. Athol Stubbs was not so lucky – this was his one big chance and the World War put paid to it. As this event illustrated, he was the dominant Australian track walker in the late 1930's. He twice created World Best Track performances for 1 mile (6:18.2 in Sydney on 25 February 1939 and 6:15.4 in Sydney on 17 February 1940) and was the reigning Australian 1 mile track, 3 mile track and 10,000m road champion at the outbreak of war. When championships were finally restarted in 1947, he resumed his walking career but, although he remained competitive on the national arena until the early 1950s, he never fully regained his pre-war form.

For the record, the first 10 places from the large field were

1. A. J. Stubbs NSW 46:01
2. G. Knott VIC 46:06
3. A. Reid VIC 47:22
4. K. McClusky VIC 49:22
5. A. Stephenson NSW 50:00
6. A. Philpotts VIC 50:09
7. G. Gosling NSW 50:31
8. S. Sheedy NSW 50:39
9. J. Cummings VIC 50:47
10. J. McDougall VIC 51:03

As well as the large cartoon in the next day's paper, the walk also attracted a two page photo spread.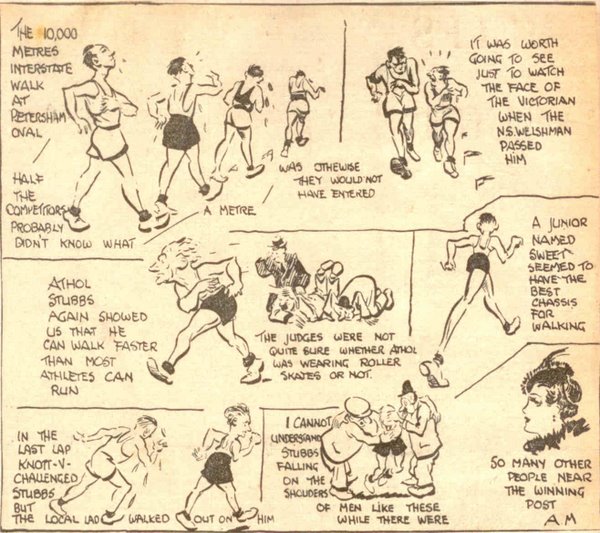 This is the front cover from the July 1978 edition of the Heel and Toe magazine. In those days, the newsletter was a joint effort by Stuart Cooper and me. Stu would produce the front cover and the editorial and I would fill out the detail with race reports and such like. It was then printed out, collated and sold at club races for the princely sum of 20 cents! Stu scanned and sent this one to me – who are those two walkers in the scanty uniforms!

Well, not so much a cartoon as a sketch. The occasion was the 1956 Olympic 50 km win by New Zealand representative Norm Read and the following sketch was published in the Auckland Star. It was indeed an interesting story as Reid was left out of the English team and had to fight hard to get into the NZ team. Thank goodness he did - the rest is history.

This one is from Ray Smith from many years ago (taken from his scrapbook in the 1950's). Thanks Ray.


This famous cartoon, published in 1956, shows Don Keane leading the field in typical fashion. Don, originally from WA, represented Australia at the 1952 and 1956 Olympics and was the Australian record holder over a whole variety of distances. You can read a fullprofile on Don at http://vrwc.org.au/tim-archive/articles/wv-don-keane.pdf.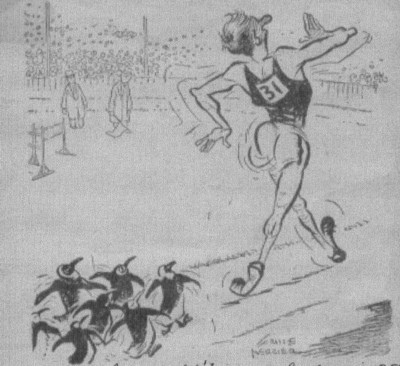 Rodrigo Garcia Maturana of Spain recently passed onto me a Swedish newsletter which featured a number of athletes, one of them being the great Werner Hardmo who set many racewalking world records in the 1940's in Sweden. Alas, because of the Second World War, he never got the chance to test himself at the international level while at his prime but he was a fantastic walker. The newsletter also featured a racewalking cartoon featuring Hardmo. Now sorting all this out was indeed an international effort as Swedish statistician Birger Falt's mother was an English teacher and she was able to translate the captions into English for us. So here it is.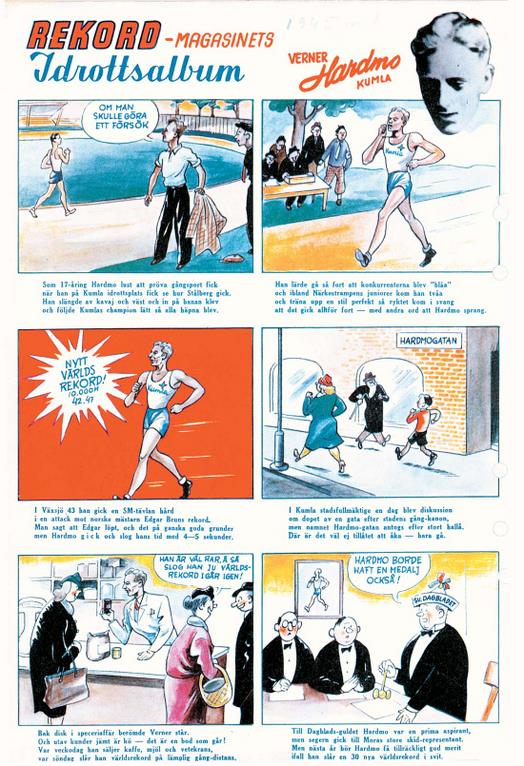 And here is the translation:

1) Speech ballon: I might give it a try.

When Hardmo was seventeen and saw Stahlberg race walking on the track in Kumla he felt like trying it himself. He threw off his jacket and his waistcoat, entered the track and followed the Kumla champion so easily that everybody was astonished.

2) He learnt how to race walk so fast that his competitors couldn't follow him and was second among the juniors in the Narkestrampen. He developed a style so perfect and walked so fast that it was rumoured that he was he was running.

3) Speech ballon: New world record 10,000m 42.47

At the Swedish championships in Vaxjo in 1943 he made an attack at the Norwegian champion Edgar Bruun's record. The rumours said that Edgar had been running and that on quite good grounds. But Hardmo w a l k e d and beat his time by 4-5 seconds.

4) In the Kumla town council it was discussed whether a street should be named after the town champion. The name Hardmo Street was chosen after lively discussions. Probably driving is not allowed in this street, only walking.

5) Speech ballon: He's a darling, isn't he. And yesterday he broke another world record.

Behind the counter in a grocery store you'll find the famous Werner. And there's always a line of customers, it's a thriving store. Every day of the week he sells coffee, flour and sweet bread and every Sunday he breaks world record on a suitable distance.

6) Speech ballon: Hardmo should have got a medal too.

Hardmo was an excellent candidate for the Dagbladsmedaljen, the most prominent award in Swedish sports, but the big skier from Mora was awarded the medal. But next year Hardmo will certainly deserve the medal if he breaks another 30 world records.
And now to some cartoons from VRWC club member Russ Dickenson. I think Russ missed his calling in life!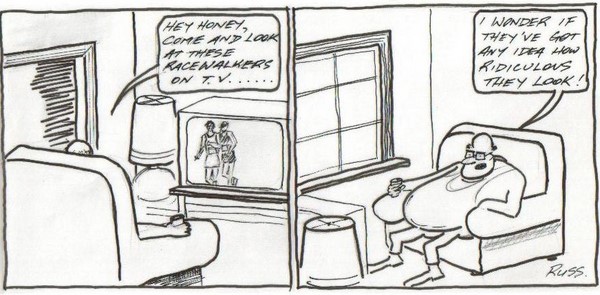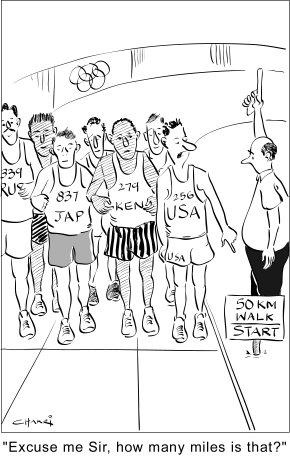 The following two fine cartoons are by English walker Bryan Hawkins. Hawkins, who died in 2018, was a fine walker, (5th in the European Championships 10,000m track walk in 1954), and he led an amazingly varied life. He wrote about it for the journal "Track Stats" – check out that article at http://www.vrwc.org.au/tim-archive/articles/wo-bryan-hawkins.pdf. He was also a fine cartoonist, as you can see above. Thanks to Bob Phillips for this latest addition.