VRWC Life Member - Bob Gardiner

---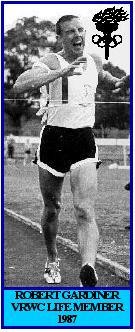 Bob started racewalking in 1953 at age 17 and was immediately successful, winning the Victorian Junior title the very next year. It was then a long haul before he hit real prominance in the senior ranks in 1961.
In that year he defeated Ted Allsopp and Harry Summers to win the Victorian Open 2 mile track walk, a title his father (Bert) had won four years in a row from 1928 to 1931. Then he captured his first Australian title in the 1961 National two miles championship at Lang Park in Brisbane. This marked the start of Bob's national and international career which had many highlights including
- 5th place in the 50 km walk in the 1964 Olympics in Rome in a new National record of 4:17:06.
- 19th place in the 50 km walk in the 1968 Olympics in Mexico City. Bob suffered badly in the heat and altitude but battled gamely to finish.
- Selection in the Rest of the World vs USA competition
- A great second to Noel Freeman in the 20 mile walk in the 1970 Commonwealth Games in Edinburgh
- Selection in both the 20 km and 50 km walks in the 1972 Olympics in Munich. Unfortunately he had to withdraw from the team with a groin injury shortly before departure.
There were many exciting races between Noel Freeman, Bob Gardiner, Frank Clark and Ted Allsopp at national level during the 1960s and a great rivalry existed between Freeman and Gardiner who filled the top 2 positions in the walking hierarchy.
Bob was trained by former Olympian George Knott and advised by Frank McGuire in his early days. The brilliant NZ coach Lydiard's attitudes were a big influence and Percy Cerutty's methods also influenced his training.
He was mainly a loner in training although he trained with Harry Summers at times. Bob competed in the famous Darwin 100km Relay with Ted Allsopp and Jim Gleeson against the Army teams of seven in the 1960s.
A fitness fanatic and a dedicated athlete, he produced many world class times between 1960 and 1972. He was a big time performer and produced his best for the Australian Championships where he won a total of 16 medals including 8 golds. His Australian Championship wins were
1961 2 miles 14:40.2
1964 50km 4:24:19
1965 2 miles 14:10
1965 20 km 1:37:23
1966 50 km 4:18:20 (fastest ever time by an Australian)
1967 3000m 12:57
1968 50 km 4:22:23
1971 50 km 4:27:57
It should be remembered that the road championships in Australia were usually held on challenging hilly courses, similar, to the LBG 20 miles course. Despite this, Bob's time in 1966 compared favourably with Abdon Parnich's (4hr 14min 2sec) world record.
A loss in the national track title in 1966 (to a young Ross Haywood) stopped Bob collecting six successive national championships. He bounced back to win the 1967 track title.
He held concurrently the Australian 2 miles, 20km and the 50km titles, the only Australian to hold all titles at the one time. It was not until 1977 that Willi Sawall equalled the feat. He also set a Commonwealth track 50km record (4hr 14min 17sec) at the Melbourne University in 1968
After his great 2nd place in the 1970 Commonwealth Games in Edinburgh, Bob won the 1971 Australian 50 km title and Olympic trial and was selected for both the 20 km and 50 km events in the 1972 Olympics in Munich. A groin injury forced him to withdraw from these Olympics and he retired from top level competition at that stage.
After his retirement from interational competition, he restricted his racing to interclub competition. It was not until the veteran movement grew that he did any serious training. In his 55th year he showed he was still capable of world class times in his age division by setting world veteran 5,000m and 20km records at the Australian Veteran Championships.
He is a life member of the Collingwood Athletic Club as well as a life member of VRWC.
Apart from his outstanding career as an athlete, Bob has been a constant supporter of the VRWC. Starting as club Vice Captain (1961-65), he progressed to club Captain (1966-72) before becoming Social Secretary (1973-75). He has been continuously on the club committee ever since and is currently Junior Vice President.
His services to the club were recognised with a life membership award in 1987. His many contributions to the club are too numerous to mention. Even now, he helps with race day setup, helps the ladies in the canteen, looks after the club equipment, maintains the honour boards, oversees club uniforms, performs general maintenance, does a great amount of general club liason and even finds time to compete in the regular club races.