VRWC Life Member - Jack Larkin

---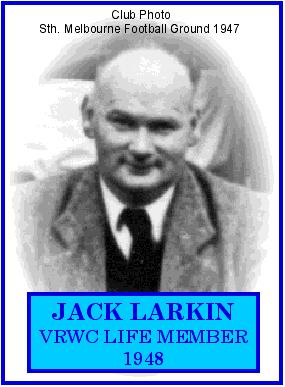 Jack, born in 1905, was initially Sydney based and had his first interstate race in 1924 when he raced as a junior in the 1924 Interstate 7 Mile Championship. Towards the end of the 1920's, he moved to Melbourne and immersed himself in VAWC first as a competitor and then as an official and judge. In those dual capacities, he continued for many years.
It is noted in the minutes of the 1941 AGM that he was thanked for his long period acting as a judge. At that time, he was the VAWC Chief Judge, a position he retained for many years.
When the club reformed in 1946 after the war, he returned to offer his services once again.
He was eventually awarded life membership in 1948 in recognition of his many years contributing to the club.
He judged at both the Olympic and Commonwealth Games and was probably our first internationally recognised judge. He was an active member of VAAA and VRWC for over 60 years until his death in 1985.
The Jack Larkin Perpetual Trophy was instituted in 1987 and is awarded annually by VRWC to the highest point scoring country athletes, both male and female.