The 1956 Olympic Games 50km Walk

---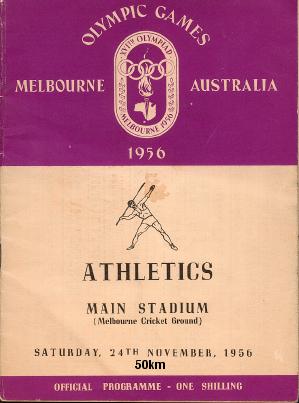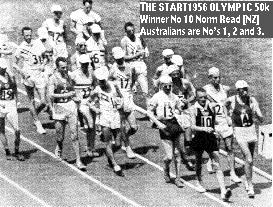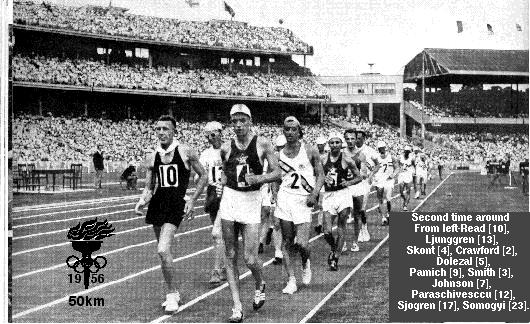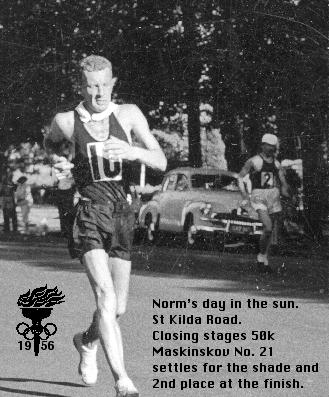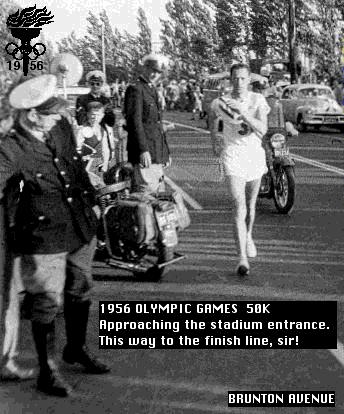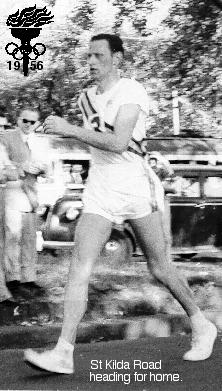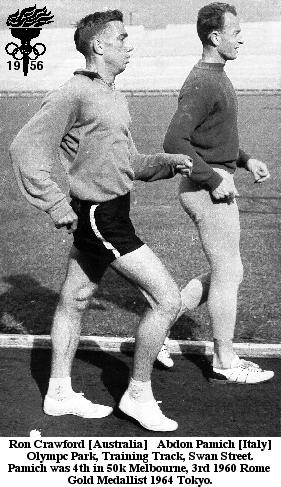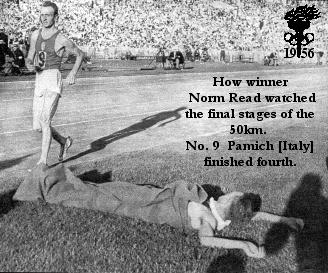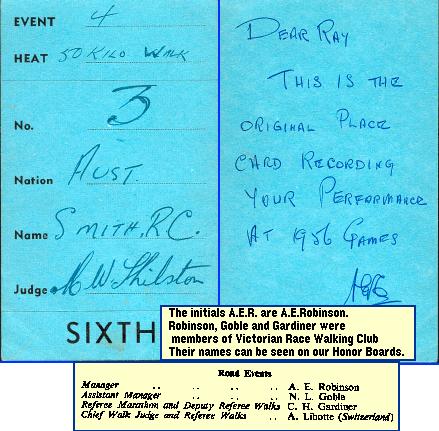 1956 OLYMPIC 50KM WALK - BRITISH OLYMPIC ASSOCIATION - OFFICIAL REPORT by JACK CRUMP
JUDGED by 11 members of the international panel‹one each from Italy, Switzerland, Rumania and Sweden; two from Hungary and the U.S.S.R. and three from Australia‹this event attracted 21 competitors to the starting line in very warm weather. Most of them protected their heads and necks from the hot sun, and it was obvious from the start that a really fast time would not be possible in the conditions.
In fact, the race started at restrained tempo, Skront, of Czechoslovakia, leading out of the stadium. Read, of New Zealand, took over the lead after two kilometres, but at five kilometres Maskinskov, of the U.S.S.R., was forcing the pace, closely followed by Dolezal, of Czechoslovakia, and Ljunggren, of Sweden, Read Iying close handy but in 10th place. At 10
kilometres, Allsopp, of Australia, was disqualified, and the order in the leading places was unaltered.
Maskinskov held an I8 seconds lead over Dolezal at 15 kilometres, at which point Pamich, of Italy, and Read were right on Dolezal's heels. Lavrov, of the U.S.S.R., Ljunggren and the third Russian, Klimov, were leading the next bunch. Maskinskov forced the pace and at 20 kilometres was nearly two minutes in front of Lavrov and Pamich.
At the turn, Maskinkov was well clear of Lavrov, but Read was then in third place and walking very confidently, while Thompson had improved to eighth position. Just short of the 35 kilometres point, Lavrov was disqualified, leaving the leader with a 2 minutes 18 seconds advantage over Read, with Klimov two-and-a-half minutes further away. Thompson was then sixth, but 12 mins. 26 secs. behind Maskinskov, who looked a certain winner.
It was then that Read started his challenge and he cut down the margin rapidly. Only 47 seconds behind at 40 kilometres, he walked at such a pace that he not only caught Maskinskov, but at 45 kilometres he had a lead of 1 min. 22 secs., and he continued to increase it right to the end.
The effects of the weather were visible in the final 10 kilometres, Klimov and Thompson, who collapsed completely at 42 kilometres when in fifth place, being among those who did not finish. Ljunggren finished strongly, making up three minutes on Maskinskov in the last five kilometres, but there was a big gap after Parmich had finished in fourth place, only six competitors completing the course inside five hours, a reflection of the exhausting conditions in which the race was held. Smith [Australia] sixth, Johnson and Hall, of Britain, in eighth and ninth places, walked with judgment but were never able to challenge the leaders.
The winner, with course knowledge and the advantage of acclimatisation, showed good technique as well as fine judgment in a race in which the judging was both impartial and satisfactorily strict.
1 N. Read (N.Z.) 4 30 42.8
2 E. Maskinskov (U.S.S.R.) 4 32 57.0
3 J. Ljungren (Sweden) 4 35 02.0
4 A. Pamich (Italy) 4 39 00.0
S A. Roka (Hungary) 4 SO 09.0
6 R. Smith (Australia) 4 56 08.0